Awadh Ganj
AwadhGanj (Take your time celebrating life)
ABOUT AWADH- Awadh known in British historical texts as Oudh, all derived from Ayodhya. Which is the center of the modern India state of Uttar Pradesh and is very well known all over the world. Awadh was established around 1722A.D. With Faizabad as its capital and Saadat Ali khan as its first Nawab and progenitor of NAWABS OF AWADH. For about eighty four years Awadh was part of the Sharqi Sultanate. The Nawabs of Lucknow were infact the Nawabs of Awadh but were so referred because after the reign of the third Nawab Lucknow became the capital of their realm. The traditional capital of Awadh has originally been Faizabad, but it was later moved to Lucknow, that serves as the capital of UTTAR PRADESH.
Awadh Ganj Residency is an integrated township located at (NH 28 Lucknow-Faizabad road), near Awadh law college. It is fully institutional and commercial area. This township is spread across 200 acres having a couple of phases that is under development. Awadh Ganj phase-1 have 62 Acres and the development is going on. Moreover the advantages are almost endless, having been on the great location, bestowed with numerous amenities, open space, ornate via great layout and designs. Awadh Ganj is totally a fantastic combination of being in an Ancient tradition and Modern day technology in Lucknow that is the fastest growing metropolitan B class cities. .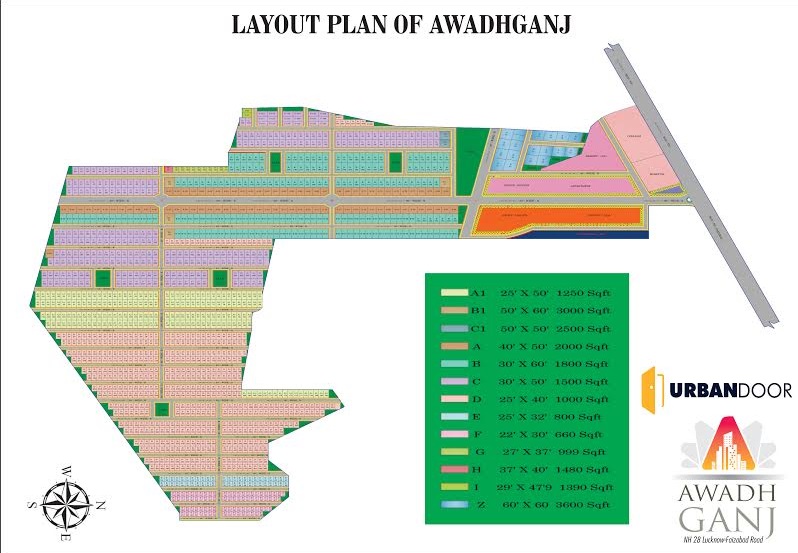 Awadh Ganj Amenities
At UrbanDoor your world will be at a different level. With modernity and nature getting equal importance. UrbanDoor is a heaven where the residents will get carried away by a bountiful amenities, greenery, play area, fountain. All will help rejuvenate your body, mind and soul. Fullfilling your aspirations dreams are succession of images, ideas, emotions and sensations. So we mixed all of them and created a place where your dreams will come alive. Urban Door, a township located in Lucknow and very wisely positioned at the development belt. Its location has made it a peaceful place to reside, whereas it also has made it a best place to invest upon.